Help create a bold new plan for Colwood at the Big Ideas Fair happening on Saturday, Jan 28. Colwood is updating its "Official Community Plan "and want to include your ideas.
There will be music by the Royal Bay House Band, food from Grilled to the Mac, hit the bouncy castle with the kids, and take part in all kinds of family friendly hands-on activities to share ideas for the future of Colwood:
Design Colwood – Bring your ideas for Colwood to life with the help of a professional graphic facilitator who will sketch what you describe for parks, housing, destinations, transportation and more.
Map It – Walk around a large floor map of Colwood and mark important places: current and future town centres, cherished assets, issues and problem areas.
Be Mayor for the Day – Use your budget tokens to invest in your priority areas.
Speakers' Corner – Tell tales about your experiences of Colwood and your hopes for the community. Stories will be recorded and compiled for posting and sharing.
In Their Shoes – Read about the experience of a fictional character in Colwood and step into their shoes to come up with ideas to improve how that person could live, work and play in our community.
My Big Idea Photo Booth – Scribble your big idea for the future of Colwood on a handheld white board and snap a photo with it. Photos will be shared on social media/the web.
Kids Drawing Station – Kids draw their ideas for Colwood on interactive sheets that prompt them to think about where we live, how we move around and enjoying open spaces.
Child Care – little ones can play in a bouncy castle and do craft activities in a separate room with licensed child care staff from West Shore Parks & Recreation.
Music – Musical entertainment to make it feel fun and festive.
Food – a food truck will be onsite to encourage people to hang out, socialize and enjoy.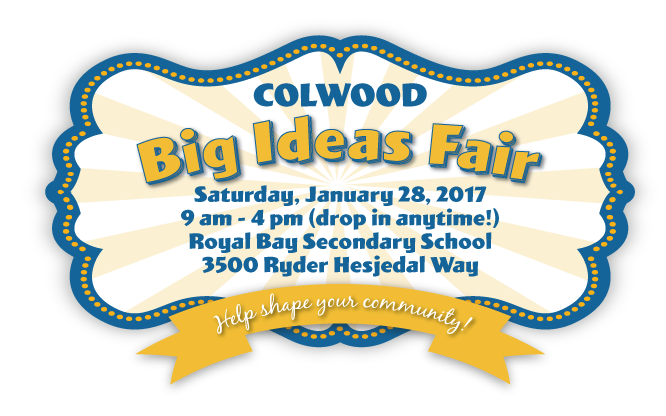 When: Jan 28, 2017 – 9:00AM to 4:00PM
Where: Royal Bay Secondary School – 3500 Ryder Hesjedal Way, Colwood