The Victoria Royals are off to a red-hot start to the 2017-18 season, posting four wins in as many tries.
After hosting Kamloops in a Saturday-Sunday set this past weekend, there is plenty to be excited about for this year's squad.
Edging the Blazers on Saturday night
Victoria snuck past Kamloops by a score of 4-3 on Saturday in a battle that went down to the wire. Kamloops fought back from a 2-1 deficit to tie the game at 3-apiece, with under 8 minutes to play in the game.
But Victoria's Ryan Peckford had other ideas. He continued his incredible start, notching a power-play goal and his 5th of the season with just 41 seconds to play, sending the Barn on Blanshard into a frenzy.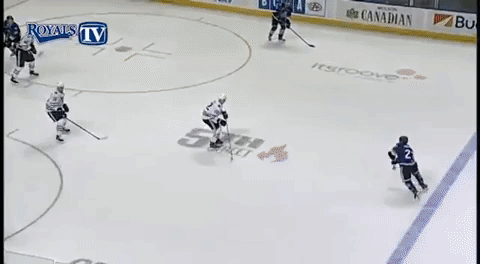 Despite a spirited push, the Royals would hold on for the 4-3 victory.
Doubling up on the Blazers for Skate with a Royal night
If Saturday's thrilling finale wasn't enough, the Royals continued to display their potent offence on Sunday. It was a tightly contested affair in the second period with both teams generating quality chances in a 2-2 game. But in the final 25 minutes of play, Dante Hannoun took matters into his own hands, scoring a hat trick and launching Victoria to a 6-3 victory.
Check out this top shelf beauty to complete the hat trick!
Royals backup netminder Dean McNabb, earned a win in his first WHL start.
Victoria Royals 2017-18 scoring leaders and upcoming schedule
Dante Hannoun: 4 games played, 6 goals, 5 assists, 11 points
Matthew Phillips: 4 games played, 3 goals, 7 assists, 10 points
Ryan Peckford: 4 games played, 5 goals, 4 assists, 9 points
Jared Legien: 4 games played, 1 goal, 7 assists, 8 points
The Royals will begin a two-game road trip this Wednesday night when they take on the Kelowna Rockets before they face the Blazers on Friday.
The Rockets are off to a 2-0-1 start to the season.
Victoria will return home for a pair of games against the Tri-City Americans on Tuesday, October 10th and Wednesday, October 11th.