Matthew Phillips' incredible start to the season has been recognized by far more than just Royals fans – he's earned himself a roster spot on Team WHL as part of the 2017 Canada-Russia series!
Russia will send over their best under-20 squad, and starting with a game against Team WHL on November 6th, will go on to play two games against All-Star teams comprised from each Major Junior Hockey League.
The Western Hockey League, Ontario Hockey League, and Quebec Major Junior Hockey League will showcase their best Canadian junior talent. Since the event began in 2003, Canadian teams have compiled a 58-19-1-6 record over that time span.
Phillips' nomination for the squad has been well earned; he is currently tied for first in league scoring with 10 goals and 26 points in 11 games, and is tops in the league on the power play with 14 points.
Tyler Soy named Canadian Hockey League player of the week
If Tyler Soy wasn't thrilled about being sent back to the Royals from the American Hockey League, he's done a great job hiding it.
Soy was named the CHL player of the week, outperforming every junior player across the entire country with 3 goals and 9 assists in just 4 games.
On the season, Soy now has 4 goals and 9 assists in 6 games. Here are the stat lines from the four games that earned him player of the week honors:
Oct 10 vs. Tri-City: 1 goal, 2 assists
Oct 11 vs. Tri-City: 2 assists
Oct 13 @ Spokane: 1 goal, 2 assists
Oct 14 @ Seattle: 1 goal, 3 assists
Soy has scored at least one point in all five of his games thus far, and sniped a goal in four of them.
Royals sneak past Oil Kings Wednesday night
Victoria was hosted by Edmonton last night, and it was a match loaded with offense, great goaltending, and a down-to-the-wire finish.
Victoria took a 2-0 lead early in the second thanks to Jared Legien's 5th goal of the season. The Oil Kings were resilient, though, and tied the game at 2-apiece early in the 3rd.
Then Matthew Phillips decided he didn't want to go to a shootout. With just five seconds left in overtime he intercepted a saucer pass right in front of the Edmonton goal, and slipped it five-hole to avoid the shoot out.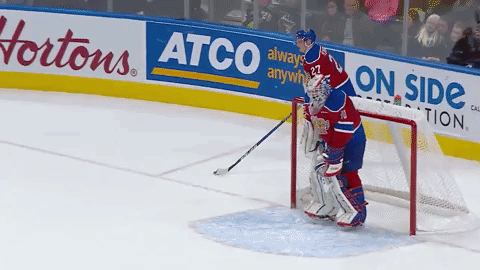 Victoria's record improves to 9-1-1-0!
Defenseman Anthony Bishop shipped to Tri-City for draft pick
Anthony Bishop's long, storied Victoria Royals career came to an end on Tuesday, after he was shipped to the Tri-City Americans for an 8th round draft selection.
Originally acquired in exchange for forward Blake Bargar this past summer, Bishop played just 4 games for the Royals before the organization decided to part ways.
He tallied one assist in four appearances.
Royals Road Trip Summary
Oct 13 @ Spokane: 8-6 L
Oct 14 @ Seattle: 6-1 W
Oct 18 @ Edmonton 3-2 OTW
Oct 20 @ Regina
Oct 21 @ Brandon
Oct 24 @ Saskatoon
Oct 25 @ Prince Albert
The boys are back in town October 28th and 29th to take on the Vancouver Giants!