The days of five-goal 2nd periods and two players recording hat tricks are long in the rear view mirror, as Canada edged out Switzerland 3-2 in a hard fought battle at Rogers Arena Thursday night.
Noah Dobson (New York Islanders) scored the game winner, while Cody Glass (Vegas) and MacKenzie Entwistle (Chicago) scored the other goals for the Canadians, who now sit atop group A with two consecutive victories.
It did look as though Canada might once again run away with this one, however. Cody Glass bulged the twine just 36 seconds in, and you had to wonder if things were going to get out of hand early for the Swiss. Goaltender Akira Schmid was sturdy in the first period, however, and kept his team within reach.
Switzerland then scored an early goal of their own, moving the puck efficiently to find Philip Kurashev for a one-timed blast from the slot on the power play just 46 seconds into the second period.
If not for a great save by Canadian goaltender Ian Scott, Canada might have had to play catch up in the second period. Swiss forward Yannick Bruschweiler found himself all alone in the slot, until Scott flashed the leather: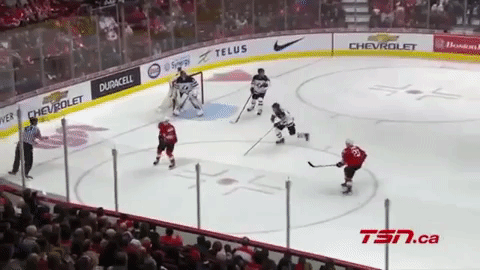 MacKenzie Entwistle then converted a snap from the slot after Shane Bowers (Ottawa) forced a turnover deep in Swiss territory, giving the Canadians a 2-1 lead.
Seven minutes later defenseman Noah Dobson ended up looking more like a power forward to give the Canadians a 3-1 lead. After gaining a half step on the defender, he barreled towards the goal before snapping the puck through the five hole in what turned out to be the game winning goal.
Kurashev then began the late-game charge for the Swiss, scoring his second of the night with just over two minutes to play in the game. But it was too little too late, as Canada held on to earn the 3-2 win.
Canada takes on Czech Republic Saturday night at 5:00pm in Vancouver!
Sweden stays atop Group B with win over Slovakia
The Swedes continued their quest for Group B domination Thursday, with a 5-2 win over Slovakia. Swedish defenseman Erik Brannstrom scored his 3rd goal of the tournament, while Emil Bemstrom buried two – including the game winner – to put Sweden on top.
The team remains at the top of group B with 6 points after defeating Finland 2-1 Wednesday night in Victoria.
Finland, meanwhile, earned their first points of the tournament with a 5-0 with over Kazakhstan Thursday night.
Today's schedule: Friday, December 28th
Rogers Arena
Czech Republic vs. Russia, 5:00pm
Save-On-Foods Memorial Centre
Kazakhstan vs. USA, 7:30pm