Christmas is just around the corner, and here are 7 reasons to plan your holiday escape from Victoria to Seattle – and how you can win a great getaway!
This includes two round-trip tickets on the Victoria Clipper for a trip to Seattle, 2 tickets to Enchant Christmas, PLUS a two night stay with Hyatt Regency Seattle, thanks to Clipper Vacations!
From the beauty and majesty of twinkling Christmas displays to concerts, great restaurants or taking in a classic Seahawks game, Seattle has an abundance to do and to see, and the city's holiday charm just makes it that much better.
Check out why a trip to Seattle should be on your holiday season radar:
1. Clipper high-speed ferry makes travel a breeze
With Clipper's exclusive BC Appreciation Fare you can get a round-trip Clipper cruise at below par with the Canadian exchange rate. Cruise from downtown Victoria straight into the heart of downtown Seattle in less than 3 hours, as you enjoy a glass of wine and perhaps a locally-sourced cheese plate.
Add in a beautiful hotel room with one of Clipper's excellent hotel package deals, and you've got the perfect weekend exploring all the city has to offer!
2. All of the (Christmas!) lights
From Enchant Christmas comes "Mischievous," an all-new adventure housed inside the iconic T-Mobile Park. When Santa's gifts go missing before Christmas, it takes the entire city to help him track them down inside Enchant's all-new Christmas Light Maze.
Enchant's immersive light experience transforms the iconic stadium into a twinkling winter wonderland brimming with 100-foot-tall and larger-than-life ornaments. In partnership with Enchant, Clipper is offering a 2-night getaway package that includes a special promotional discount on Enchant tickets along with an excellent downtown hotel deal!
3. Decked out Hyatt Regency Seattle Hotel plus holiday shopping galore!
Browse the chic downtown stores, or pick up some big name brands at the flagship Nordstrom store or Macy's (hurry before it closes in February 2020!). Don't forget to stock up on Christmas ornaments, keepsakes and gifts at the dazzling Enchant Christmas Market – with more than 70 market stalls selling artisan goods, from local to international favorites, you'll be sure to find that perfect something for everyone on your list.
Top your evening off with a beautiful and relaxing hotel stay at the centrally located stunning Hyatt Regency Seattle, and you've got it made!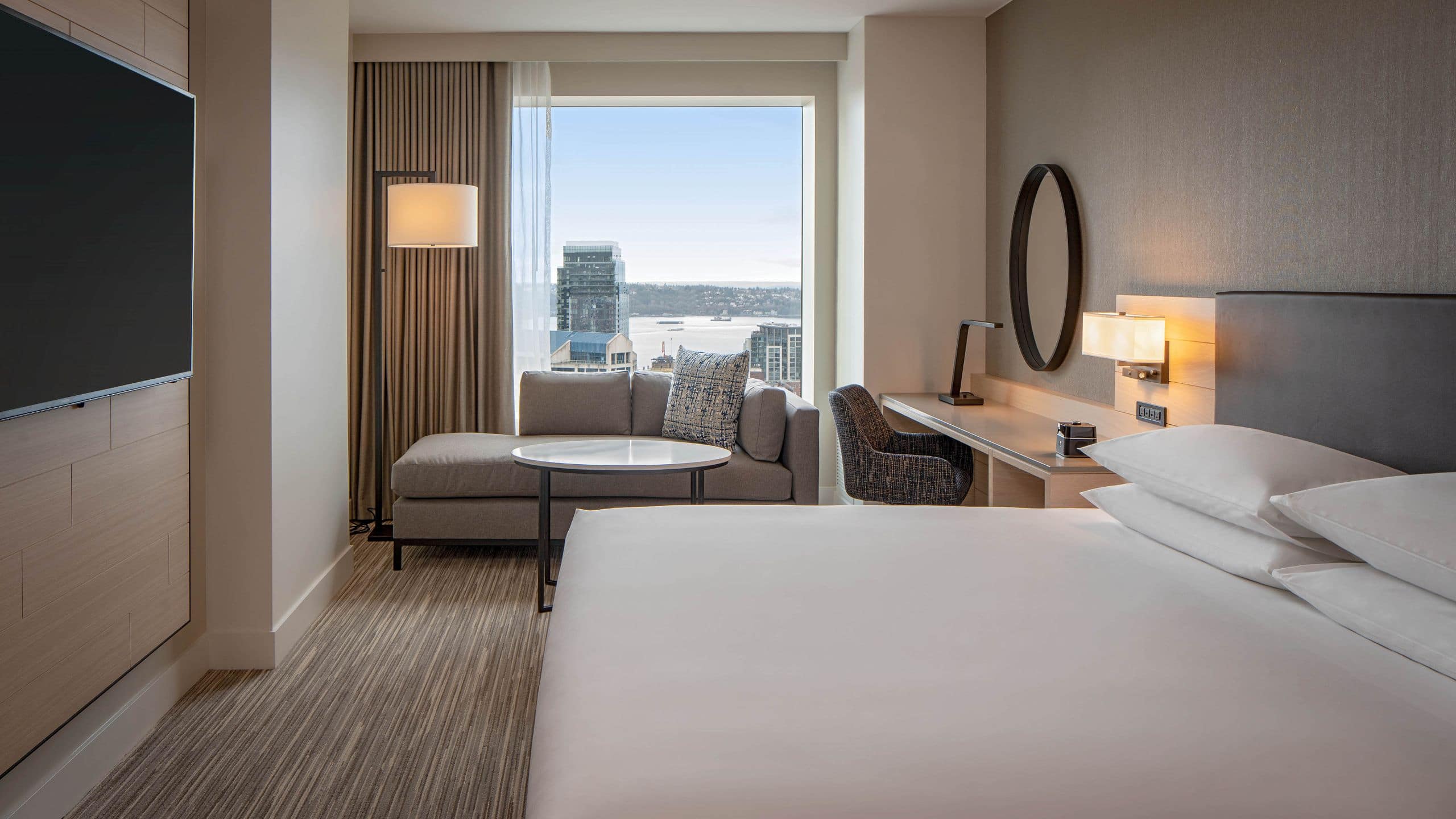 4. Take in a Seattle Seahawks game
Football fans rejoice, it's that time of the year!
Order your tickets and when you arrive grab a beer and a pretzel at the stadium for that authentic football viewing experience. If you're lucky enough to witness the Hawks win, you will exit in celebratory style under a shower of fireworks!
Take a look at the Seahawks jam-packed home schedule and plan out the perfect evening!
5. Take a day trip to the Bavarian-themed town of Leavenworth
Enjoy a scenic ride across the Cascades to the Bavarian-themed town of Leavenworth. Clipper Vacations has you covered with a deluxe motorcoach day trip departing from several locations in and around Seattle. At dusk, gather for The Lighting Ceremony and see the town come to life with more than half a million sparkling lights.
Brimming with holiday magic and plenty of cheer, this is one event you will not want to miss!
6. Visit Seattle's revamped Space Needle
After 100 million dollars, more than 176 tons and 10 types of glass, the original 1962 design is now a reality. Seamless floor-to-ceiling glass walls provide unobstructed 360-degree views of the region. The wire cage look has disappeared, and visitors can now enjoy looking out over the city through 11-feet-tall and 7-feet-wide glass panels.
The Space Needle also features the world's first and only revolving glass floor. Slowly spinning at the 500-foot level, see downtown Seattle glisten in the sun!
7. Visit the iconic Pike Place Market!
Did you know that Pike Place Market is just a 15 minute walk from Clipper's Seattle terminal? With tons of fresh produce, vibrant floral arrangements, tucked away watering holes, and storefronts for local favorites like Ellenos Real Greek Yogurt, it's the perfect place to spend a Seattle afternoon!
CONTEST CLOSED** Congratulations to Crystal Walts-Witherspoon!
For your chance to win two round-trip tickets on the Victoria Clipper for a trip to Seattle, 2 tickets to Enchant Christmas, PLUS a two night stay with Hyatt Regency Seattle, please do one or more of the following:
1. Like Clipper Vacations on Facebook and leave a comment below telling us once you have. (1 entry)
2.  Follow Clipper Vacations on Instagram and leave a comment below telling us once you have. (1 entry)
3. Tweet the following on Twitter: (1 entry)
Win two round-trip tickets on the @clippervacation for a trip to Seattle, 2 tickets to @EnchantSEA PLUS a two-night stay with @HyattRegencySEA via @victoriabuzzes, RT to enter. http://bit.ly/2plzasP #victoriabuzz #yyj #sponsored
Contest entries will be accepted from time and date of publishing until 11:59 pm PST on November 25th, 2019. One winner will be chosen at random and contacted through the platform they enter by. Make sure to register when leaving a comment below so we can contact you if you win!