A new two-way bike path that is nearing completion at University of Victoria and is expected to be ready as students return this Fall.
UVic campus has remained quiet for students since the pandemic began last year, but workers have been busy constructing the new bike and pedestrian lanes.
In June 2020, the provincial government announced that Oak Bay and the University of Victoria were approved to receive $316,380 from the province's active transportation grants program.
The program was set up as a way to help rebuild British Columbia's economy during the pandemic and meet CleanBC climate goals.
The funds are being allocated to Oak Bay's University Drive Connection Pathway that will be a bidirectional bicycle pathway serving approximately 1,370 cyclists per school day.
The project will add a new 3-meter bi-directional bike pathway adjacent to the existing path, which will be dedicated to pedestrians only. It will also include intersection crossing improvements, new lighting, and bicycle and pedestrian pathway counters.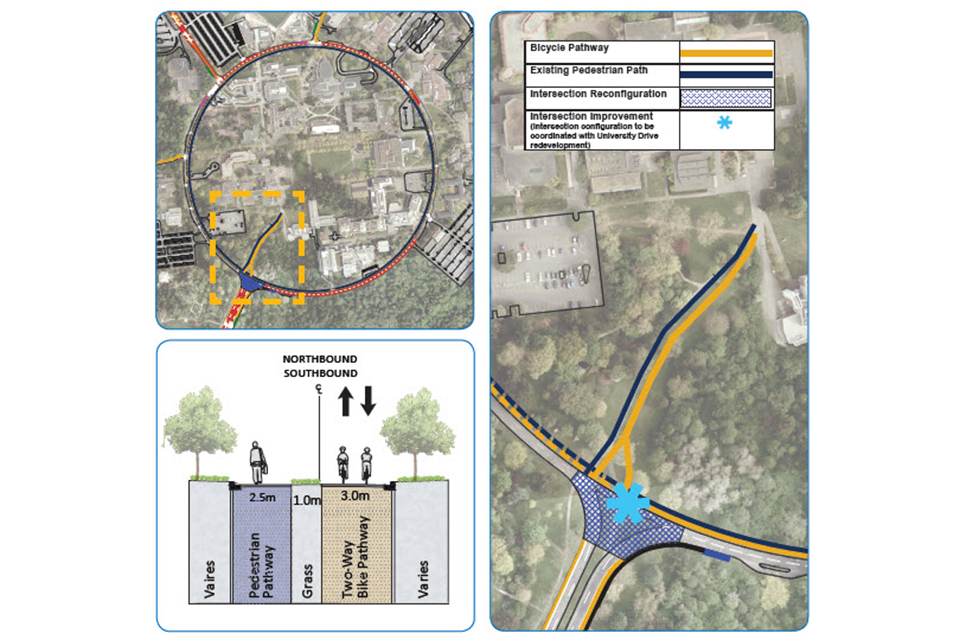 The existing pathway will be converted to a pedestrian-only pathway that serves about 700 pedestrians daily.
The bike and pedestrian lanes connect University Avenue to the heart of the campus, and it goes around Ring Road.
"This is the first of seven network improvement projects in our Campus Cycling Plan to move ahead after extensive engagement with the campus community, so it's exciting. Students, faculty and staff have told us that the University Drive entrance is a congested area where conflicts between pedestrians and cyclists can happen, and this project is going to improve safety and access for everyone, said Mike Wilson, director of campus planning and sustainability
"We're working hard to increase the use of transit, cycling, walking and carpooling to 70% of all trips to campus, as part of our overall strategy to reduce greenhouse gas emissions and increase active transportation," says Wilson. In 2018, 62% of trips to and from campus were made by walking, cycling, transit or carpooling.
The goal is to pursue opportunities to reduce vehicle traffic on Ring Road, reduce parking lot points on Ring Road, mitigate large volumes of vehicle traffic, and reallocate road space from single-occupancy vehicles to transit, cycling, or a combination of modes.
See the photos below:
@uvic is quiet these days. So not many folks have yet seen new bike infra there. Almost complete. Entering at UniversityAve & across RingRd are new sep. paths for bikes/peds. Short🧵w pics 1/ pic.twitter.com/2XcUqZ9r9m

— Ray Straatsma (@RStraatsma) March 29, 2021
In addition, separate sidewalk/bike path connects users going east to Engineering Bldg @UVicECS Under construction last few weeks. I'm told all should be open by Easter wknd or soon after 3/ pic.twitter.com/f616IvMGB1

— Ray Straatsma (@RStraatsma) March 29, 2021