The Victoria Royals are once again back with their Pink in the Rink event, one of the best events on the Royals calendar.
In partnership with the B.C. Cancer Foundation, the Royals are using the power of sport for good – to raise money and help the fight against society's long standing battle with breast cancer.
And they're going to look damn good doing it.
During Friday night's game against the Seattle Thunderbirds, fans can participate in an auction for these nifty, game worn jerseys. All funds raised will go directly towards supporting the fight against breast cancer, and you get all of the good vibes and karma that comes with putting your heard earned money towards a worthy cause.
And hey, if the auction isn't your style, you can still enjoy a slice of pizza or an ice cold beer and watch a sweet hockey game!
It's win-win, really. 
Tickets for Friday's Pink in the Rink game are still available, and you can snag them here.
Meet the Victoria Royals' overaged players
In advance of last week's article for the Royals' weekend series, we highlighted some of the quality young talent the Royals are currently icing, with the idea that they should be around for a few years (barring any trades) and you can get to know them a little better.
Well, for this weekend, we went the opposite direction.
Each team in the Western Hockey League (WHL) is allowed three "overage" players – that is three players who are precisely one year older than the standard age range. The WHL is an under-20 league, so, overaged players are 20 years old when the season starts.
No matter how good they look in a Royals jersey, Father Time waits for no one. So this will be their last season in Victoria.
With 25 games left in the regular season, we figured it was time to appreciate these lads down the home stretch for all the hard work they've done – and will continue to do right up until the final whistle of the year.
#18 Tarun Fizer, RW, Chestermere, Alberta
Tarun Fizer is the only overager this year who has played his entire career with the Royals, after making his debut in the 2017-18 season as a 16 year old. He's grown into the Royals' captain this season, and certainly had a bright tribe of mentors to learn from – as he plied his trade alongside former Royals such as Tyler Soy, Matthew Phillips, and Dante Hannoun for a few years.
Unfortunately, Fizer has missed significant time this season due to both injury and a tryout with the American Hockey League's Colorado Eagles, but he is back healthy and contributing in his usual attacking ways.
So far, Fizer has two assists over his two-game return from injury, and is sporting a nice stat line of 5 goals and 16 points through 14 games this season. Both Fizer and Bailey Peach represent top tier options on the wing for this club, and, if head coach Dan Price wants to stack his top line by putting Brayden Schuurman between them, you can bet the opposition would be shaking in their boots.
We're looking forward to seeing what a healthy Fizer can do as the Royals push to secure a playoff spot.
#29 Bailey Peach, LW, Falmouth, Nova Scotia
Bailey Peach has provided much joy this season for both fans and media members alike, producing a ridiculous 7 point game in December, scoring a ridiculous thirty five points over a 16 game streak before the new year, and by giving people like us the opportunity to write corny headlines like "Everything is Peachy in Royals victory".
Oh, and he kind of did this a while ago: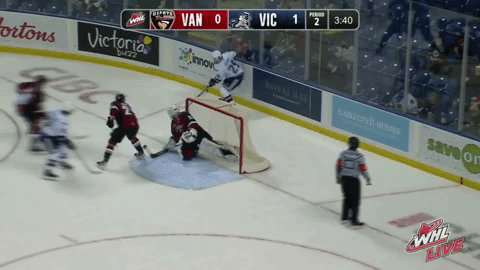 He's done it all.
Ultimately, his former team, the Charlottetown Islanders in the Quebec Major Junior Hockey League decided they had other overaged players they wanted to use, and their loss became our gain. Like, a big, massive, huge gain.
Peach was December's WHL Player of the Month, with an astounding 14 goals and 29 points in just 12 games, and is currently tied for 6th in league scoring with 25 goals and 55 points in 43 games. 
He has slowed down a bit as of late – a two week pause in January due to covid didn't help him out in any way – but you can bet Peach will be as motivated as ever to help the Royals make the playoffs in his last – and only – WHL season.
#12 Evan Patrician, C, Calgary, Alberta
Evan Patrician is the type of player ever coach loves – an experienced, two-way centerman who can contribute on both sides of the puck. He's first on the team in faceoff percentage, with 52.8%, and, at the time of acquisition, was praised by GM and head coach Dan price for his "tremendous off ice approach". No doubt Patrician has been invaluable in leading and setting an example of the work ethic required to succeed at this level.
Patrician had split his WHL career between the Vancouver Giants and Saskatoon Blades, before joining Victoria for his final WHL season. Individually, the former Giants' 7th round pick has had his finest season to date – setting both career highs in goals and points thus far with 8 goals and 12 points through 25 games.
Join the Royals for their weekend set against the Seattle Thunderbirds
Friday night's game is a can't miss – featuring the aforementioned Pink in the Rink night – and you can start your weekend off right with a 7:05 p.m. puck drop at Save-On-Foods Memorial Arena.
But don't forget about Saturday, where the Royals will embrace a Valentine's theme for their Swipe Right night. With a light hearted approach to a Saturday date night, you had best be looking out for that Kiss Cam.
Puck drop is also at 7:05 p.m.