The festival may be over, but there are five new murals that are welcome additions to the already diverse and beautiful street art scene that exists in Esquimalt.
Esquimalt Community Arts Hub (ECAH) organized the painting of five brand new murals throughout Esquimalt for East West Mural Fest.
Lydia Beauregard is a muralist and freelance artist. With her art, she tries to evoke a feeling of love, hope and freedom. She tries to balance reality and imagination with her vague representation of her subjects.
Lydia's mural:
West Bay Landing – 903 Esquimalt Road
Lukas Lundberg is a Swedish visual artist based out of Vancouver. His paintings are vibrant paintings that often combine wildlife with abstract elements. He paints on murals and canvas using brushwork as well as spray paint.
Lukas' mural:
The Union House – 802 Esquimalt Road
Kay Gallivan is an artist of many disciplines from Lekwungen Territory. She is inspired by biodiversity, social practice, myths and archetypes using emotion inducing colour schemes and textures.
Kay's mural:
Lapis Homes, Urban Thrive – 633 Belton Drive
Expel is an urban art master. His illustrative designs are very recognizable, playful and colourful with over-the-top features. His mural features a stylistic resemblance to the popular video game series: Grand Theft Auto.
Expel's mural:
Victoria Plating – 892 Devonsire Road
Alex Taylor-McCallum is a multi-faceted Kwakwaka'wakw and Nuu-Cha-Nulth artist, decolonial chef, writer, father and storyteller.  
Alex's mural:
Hereward Street Underpass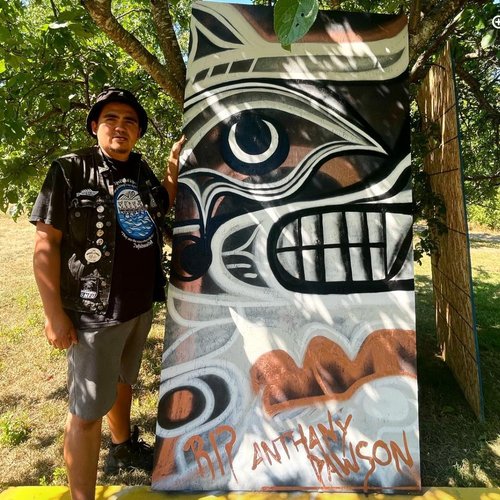 On Saturday, September 3rd, ECAH is hosting the first ever Great Mural Race! A family-friendly 5 km race to find all the new and existing murals that grace the streets of Esquimalt.
Participants will start at The Union House (802 Esquimalt Road) and race at their own pace to see as many of the murals as you wish.
No registration is required and the event is free to attend.
Where: 802 Esquimalt Road
When: Saturday, September 3rd from 10 a.m. to 2 p.m.