It's no secret that the latter half of winter often feels like it's dragging on.
This time of year it can be easy to slip into an endless cycle of work and Netflix, but don't let that happen on your watch! 
If you're unsure what to do with your free time this month or need recommendations for a friend group that is indecisive, these 16 events happening across Victoria this month are sure to satisfy even the pickiest of tastes.
The Royals invite you to join them for their annual Pink in the Rink game, one of the most highly attended nights that tackles head on the challenges of breast cancer.
Though every point is crucial as the race to the playoffs nears its end, this game has a bit more on the line.
The Royals will be hosting their BC Division rivals this Friday, February 10th, as they welcome the Vancouver Giants to town for the first half of a rare home and home series.
Doors open at 6 p.m. with the puck dropping at 7:05 p.m.
When:

Friday, February 10th, 7:05 p.m.

Where:

Save-On-Foods Memorial Centre, 1925 Blanshard Street
The 29th annual festival kicked off on February 3rd and will go until the 12th.
They're closing in on a fantastic ten days of indie films, shorts, and industry events.
There are over 109 stories, with 82 feature-length and 26 short films. VFF are screening movies from 27 nations, with one making its international debut and eight making Canadian debuts. Fifteen of the movies have a female lead, and 44 have a female director. There are also five films that have Victoria-based filmmakers, including the feature A Cedar is Life.
Where:

The Vic Theatre, 808 Douglas Street

When:

February 3rd to February 12th
For one night only you just might find love a few days before Valentine's at this speed dating event happening right here in Victoria!
The number of dates will depend on how many people sign up. Intermission with light snacks will be provided at this event.
Matches will be sent to you via email or text (whatever you prefer) within 24 hours.
Where:

411 Gorge Road

When:

Friday, February 10th, 7 p.m. to 9 p.m.
Bring your Sweetheart, friends and family to this one-of-a-kind Valentine's weekend market at Bilston Creek Farm.
This curated selection of specialty vendors will offer a variety of hand made treats and thoughtful gifts for your Sweetheart, or yourself 
Where:

Bilston Creek Farm, 4185 Metchosin Road

When:

Friday, February 10th to Sunday, February 12th, 10 a.m. to 5 p.m.
Celebrate Black History Month at the Royal BC Museum with a dynamic display of booths from local organizations, hosted by the BC Black History Awareness Society. 
Heritage Day is an opportunity to meet and talk with direct descendants about their stories and family history. The exhibits include images, artifacts and archival documents.
Where:

Royal BC Museum, 675 Belleville Street

When:

Saturday, February 11th, 1 p.m. to 4 p.m.
Victoria Ice Skating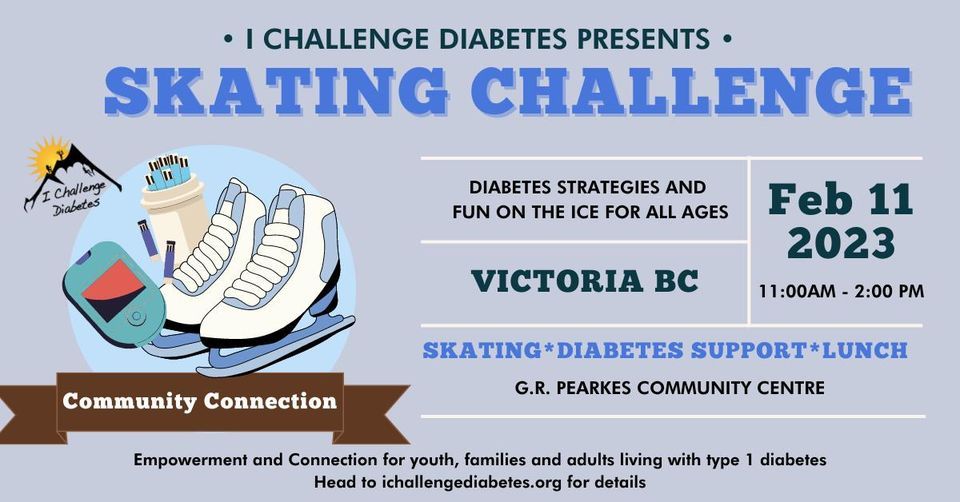 Join I Challenge Diabetes and ICD's Youth Council for a dynamic day of winter fun open to anyone living with T1D, their families and friends.
Build connections with our supportive T1D community while enjoying lunch and a leisure skate in Saanich. Choose from Family or Individual tickets.
When:  

Saturday, February 11th, 11 a.m. to 2 p.m. 

Where:  

G.R. Pearkes Recreation Centre, 3100 Tllicum Road
Enhance your appreciation of cheese by learning key tasting skills! We'll teach you the words to describe the taste, colour and texture of your favourite cheeses, how to use all of your senses to fully experience a cheese tasting, the important steps in Cheesemaking and some history.
The tasting menu features 12 kinds of cheese from all over the world.
Where:

L' Apéro – Wine and Cheese Bistro, 1028 Blanshard Street

When:

Saturday, February 11th, 2 p.m.
From the dynamic duo that brought you Hair Funeral comes a new improvised musical, just in time for Valentine's Day! Kisses From a Horse will take inspiration from audience suggestions and will be made up on the spot and performed live for one night only. What better way to spend Valentine's Day? Bring your sweetheart or your bestie (or both) and get your butts in a seat!
Where:

Paul Phillips Hall, 1923 Fernwood Road

When:

Tuesday, February 14th, 2023. Doors at 7:30 p.m., Show at 8 p.m.
At this event, guests will enjoy and participate in a conversation with award-winning novelist Esi Edugyan. 
Edugyan is noted for writing "richly imagined and impeccably researched stories that illuminate complicated truths about race and belonging".
Out of the Sun: On Race and Storytelling. Through the lens of visual art, literature, film, and the author's lived experience, Out of the Sun examines the depiction of Black histories in art, offering new perspectives to challenge the accepted narrative.
Where:

Hermann's Jazz Club, 751 View Street

When:

Thursday, February 16th, 5 p.m. to 7 p.m.
Bedouin Soundclash is a Canadian band based in Toronto and consisting of vocalist and guitarist Jay Malinowski, bass player Eon Sinclair and drummer Chuck Treece.
Their sound has been described as a combination of reggae and ska. Bedouin Soundclash was formed in 2001 and has released five studio albums, most recently in 2019.
Where:

Capital Ballroom, 858 Yates Street

When:

Thursday, February 16th, doors open at 8 p.m.
A night of all-true stories told by the people that lived them. Co-hosts Cassandra Togneri and Carol-Lynne Michaels will introduce you to six storytellers inspired by the theme 'Summer Love: Stories of heating up, cooling down and wishing it would never end'. 
Each will share a personal story from their life, live on stage, without any notes, props or gimmicks.
Where:

Victoria Event Centre, 1415 Broad Street

When:

Thursday, February 16th, 6:30 p.m.
As part of our Black History Month-long celebration in February 2023, internationally acclaimed artiste, Mamadou Diabate with Percussion Mania and Montreal-based artiste Naxx Bitota will take us on the musical experience of a lifetime – ISSAMBA showcase: a journey through the depths of African-rooted rhythms.
Get your tickets before this event sells out!
Where and when: 

Friday, February 17th, 7:30 p.m. at Victoria Event Centre, 1415 Broad Street

Saturday, February 18th, 7:30 p.m. at Port Theatre, 125 Front Street
The District of Saanich's Family Arts Festival is back for the first time since 2020 at the Cedar Hill Recreation and Arts Centre.
This fun-filled, free family event is a celebration of imagination, creativity and discovery. Kids of all ages will explore a wide variety of activities led by Arts Centre staff and guest instructors from the region's arts community.
Food trucks will be on site throughout the day. Drop by Kattia's Kitchen or Greek on the Street for authentic Mexican and Greek food.
When:

Monday, February 20th, 11 a.m. to 3 p.m.

Where:

Cedar Hill Arts and Recreation Centre, 3220 Cedar Hill Road
The Royals face off against Prince George in front of a hometown crowd!
Doors open at 5 p.m. with the puck dropping at 6:05 p.m.
When:

Saturday, February 25th, 6:05 p.m.

Where:

Save-On-Foods Memorial Centre, 1925 Blanshard Street
Poets Jan Zwicky and Garth Martens perform alongside two of Canada's top flamenco artists, dancer Denise Yeo and guitarist Gareth Owen. The two performances, on February 24 and 25, will be followed by an on-stage conversation.
Dark Sounds is a flamenco literary series that joins English-language poetry with traditional flamenco. Its focus is grief, death, and the climate crisis. Endings, disappearances, cultural cataclysm. Little deaths that pile up while, all around us, the smoke steeples the horizon.
When:

February 24th and 25th, 7:30 p.m. to 9:30 p.m. 

Where:

Intrepid Theatre, 1609 Blanshard Street
Save the date! A new concert series starts in Sidney
Beginning Saturday, February 25th, St Paul's United Church will be kicking off a monthly afternoon concert series. 
Local favourite, Edie Daponte, along with bassist Joey Smith, and pianist Atilla Fias will present, "I wish you love", an unforgettable afternoon of music celebrating the month of love.
Tickets are $25 and $20 for Seniors.
Where: St Paul's United Church, 2410 Malaview Avenue at 5th Street
When: Saturday, February 25th, doors open at 1:30 p.m. concert starts at 2 p.m.
Exploration of Age in South Asian Art examines the paradox that Buddha poignantly
describes himself at 80, yet Buddhist art always images him as eternally young.
Showing how South Asian art features youth, Dr. Young also addresses how new
portraiture styles and photography reverse the erasure of old age in traditional visual
arts.
When:

Sunday, February 26th, 2 p.m. to 4 p.m. 

Where:

Art Gallery of Victoria, 1040 Moss Street