Regarded as one of the most diverse destinations in Canada for untapped nature and picturesque scenic views, Vancouver Island offers jaw-dropping locations for travellers and locals to enjoy. 
Whether you're hitting the road for a week-long adventure or just a day, these 17 locations across Vancouver Island will leave you telling friends and family about your grand adventures.
​​Goldstream Provincial Park has something for everyone to enjoy. The main attraction of this park is BC's very own Niagara Falls! 
This smaller version of the historic Niagara Falls in Ontario is an impressive 47.5 meters tall.
Known as the largest park in the Saanich area, Mount Douglas offers a spectacular 360-degree view of the area around Victoria, including east to Haro Strait, north and west through Saanich, and south towards downtown Victoria.
Where:

Mount Douglas, Saanich
The Wild Pacific Trail is located in Ucluelet and is a seven phase trail system skirting the rugged cliffs and shoreline of the west coast of Vancouver Island. 
Overlooking Barkley Sound and the Broken Group Islands to the east and the open Pacific Ocean to the south and west, it offers spectacular shoreline panoramas and seaward vistas through ancient cedar and spruce-framed viewing platforms constructed on the best headlands along the route.
Where:

Wild Pacific Trail, Ucluelet
Explore this Hidden Gem of Vancouver Island.
Above by hiking through the beautiful rainforest Fossil Trail or venturing underground on a guided tour. 
Start your journey with a short hike through the forest to reach the cave entrance. Here you'll begin a fascinating subterranean experience. 
As you step away from the emerald forest and deeper into the cave, a new world of crystal formations, marbled passages and ancient fossils are revealed. 
Navigate ramps, ladders and slides to meander through the caverns. Feel the cool air. Listen to the sound of your guide's voice, the steady drip of water or the rumbling of an unexpected waterfall.
Where:

Horne Lake Caves, 3905 Horne Lake Caves Road
Hidden in a narrow canyon just beyond the beach, this waterfall takes a little more effort to find.
This one-of-a-kind waterfall can be found while walking down to Sombrio beach. 
This takes only 15-20 minutes and is very easy (stay left at the divide). At the pebble beach, follow the shore to the left.
Where:

Hidden Falls, Sombrio Beach
Plan to spend a few hours wandering Cathedral Grove's trail system and gazing up at 800-year-old giant Douglas Fir, Grand Firs, Western Hemlocks, and Western Red Cedar trees. 
Cathedral Grove will give you a sense of what Vancouver Island and the west coast looked like before the arrival of European settlers.
Where:

Cathedral Grove, MacMillan Provincial Park
Off to Tofino and want to something different? How about finding a plane crash site? 
Make your way through an abandoned building and prepare to get muddy as you go through swamp-like areas before ending in an open field. Wondering where the plane is? 
Look up and you'll see it right in front of you, up in the trees. You can explore the crash site, but make sure not to litter or to take something. 
Moreover, be aware that this trail is not maintained by Parks Canada and that you, therefore, have to be careful not to get off-trail. 
Plan ahead, bring food and water and lastly: make sure to leave yourself enough time to get back before the sunset.
Loop around two lakes along wide, flat trails, shaded by evergreen trees. Visitors can spend the day hiking and then cool off with a refreshing swim. Bring a picnic or a canoe to make it a full-day adventure.
Where:

Thetis Lake, Colwood
Sooke Potholes Provincial Park is a popular destination along the Sooke River with a unique rock formation that was formed from the last ice-age millions of years ago. 
The park area has several trails along the river, close to the shoreline and others that are high above the rock pools.
Close to the Sooke Potholes, you'll find Leechtown, an abandoned mining spot. This once-thriving town was founded in 1864 after explorers discovered gold in the Leech River. 
By 1865, the gold rush had passed its peak and most people moved away from Leechtown. Still, the town was kept alive by a small mining and logging industry. The abandoned Leechtown is now a restricted area, but you might be able to catch a glimpse of abandoned mining equipment.
Where:

Southern end of Vancouver Island
Juan de Fuca Park on the west coast of southern Vancouver Island offers scenic beauty, spectacular hiking, marine and wildlife viewing, and roaring surf in its course along the Pacific coastline of the Strait of Juan de Fuca.
There are four main areas to the park: the China Beach Campground, the Juan de Fuca Marine Trail, the China Beach day-use area, and Botanical Beach. 
A major feature of this park, the Juan de Fuca Marine Trail, follows 47km of wilderness stretching along the western shoreline of the southern Island. 
Things to do on Chesterman Beach:
Explore tidepools at low tide on North Chesterman Beach to find sea stars, anemones and more marine life forms.

Drop by the Carving Shed by the Wickaninnish Inn and watch talented wood carvers at work.

When the tombolo (sandspit) to Frank Island emerges at low tide, walk out for views of the entire beach with a mountain backdrop.

Go to South Chesterman Beach and watch surf instructors teaching new surfers the basics of riding their first wave. Better yet, register with a

Tofino surf school

for your first lesson or bring your gear and surf this stunning beach.

If the wind is blowing, fly a kite!

Where:

Chesterman Beach, Tofino 
Things to do on Cox Bay:
Pack up for a day of beach fun.

Look for some high-skill surfing. This is where you're likely to find the pros and seasoned surfers.

Spot some sand dollars. While it can be tempting to bring them home, they're best left in their natural habitat.

Explore driftwood shelters, built by industrious beach lovers. Maybe build your own?

Wait for a low tide to explore the tidal caves at the northern tip of Cox Bay (to the right when facing the ocean.) You may find barnacles, sea stars, and more marine life.
Where: Cox Bay Beach, Alberni-Clayoquot.
Goats on the Roof 

For over 30 years, goats have been happily posing for pictures as they munch contentedly away on the sod roof. The goats are only out in summer, but the area is a popular place to visit year-round.
Located a short drive from the cities of Parksville and Qualicum, the Old Country Market is a fully-fledged tourist attraction and perfect family outing. Not only will you find the goats, you'll also find an assortment of restaurants, an ice cream stand, gift shops, a vegetable and fruit market, a garden center, and a surf shop.
Where:

Old Country Market, 2326 Alberni Highway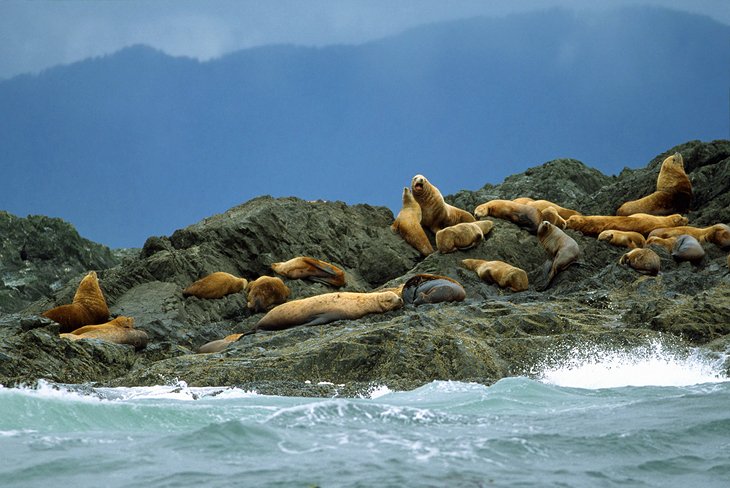 Clayoquot Sound is a remote area on the west coast of Vancouver Island.
Much of it lies northwest of Tofino, with beautiful deep fiords, countless little islands, and one of the last surviving areas of temperate rainforest. It is a designated UNESCO Biosphere Reserve.
Where:

Located on the west coast of Vancouver Island, north of Tofino.
The Dakota 576 was a Royal Canadian Air Force plane that crashed on April 19th, 1944.  
The plane was on a navigation exercise from Pat Bay and was to approach Port Hardy and then return.  
However, they didn't have enough fuel and decided to try to land in Port Hardy.  The pilot wasn't able to land on his first attempt due to the bad weather, and during his second attempt, he ran out of fuel and crashed a few miles away from the airport. 
Tragically, the two pilots, P.O. J.M. Talbot and P.O. T.S. Wordlow were killed, while the wireless air gunner, Sgt. T.R. Moss survived.
Where:

Trailhead begins north of Bear Cove Park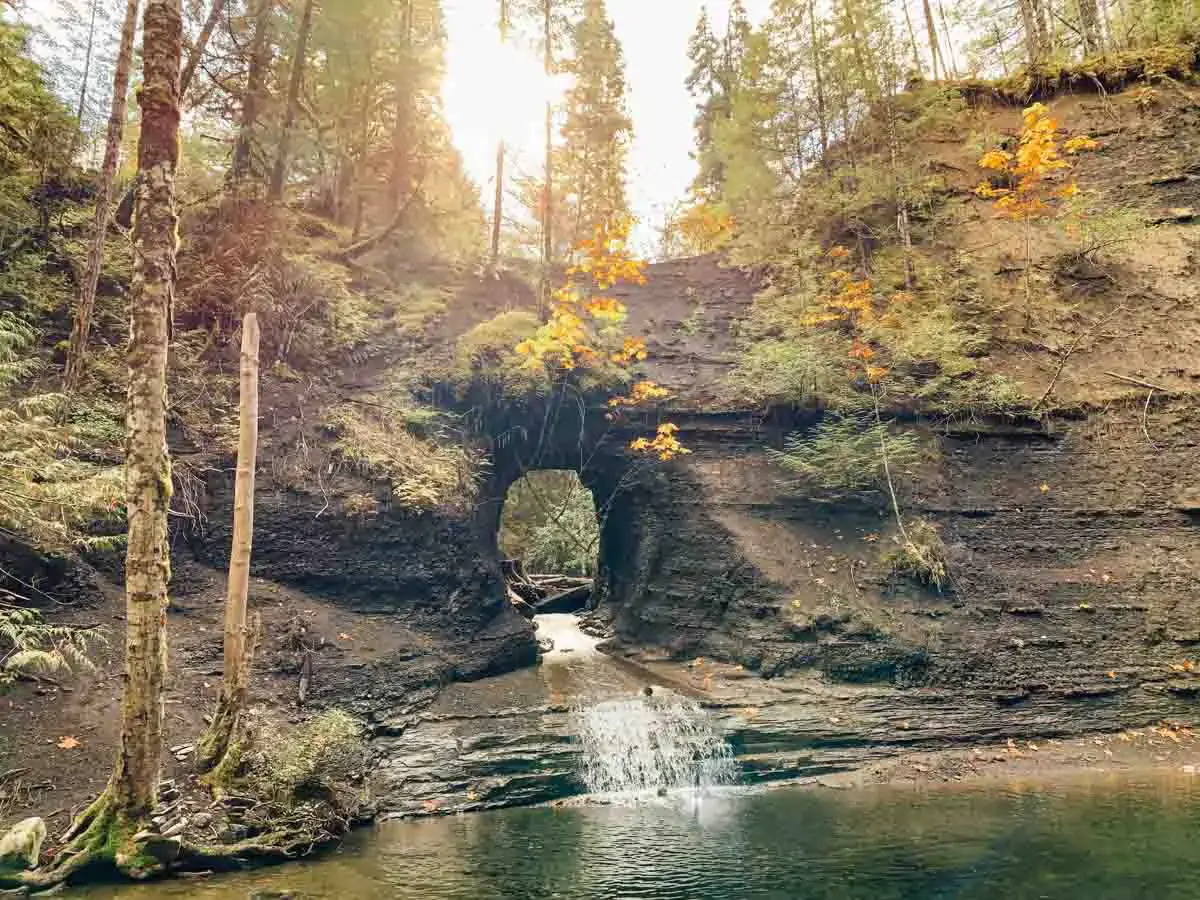 Years ago a large hole was drilled through the solid rock to make way for an old pipeline. 
The pipeline has since been removed and what is left behind is a beautiful oasis in the forest where the creek flows through the hole and down into the crystal clear pool below.
Inukshuks usually line the shore and, on warm days as hikers cool off by the creek.