Happy national pie day, Victoria!
From a baking bonanza at the Driftwood kitchen to Craft nights at the Times here are five  things to do in around Victoria this Tuesday, March 14th: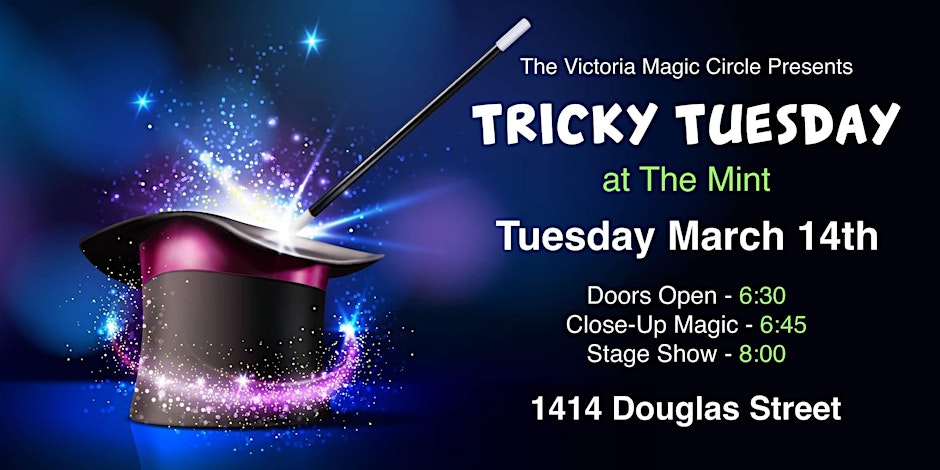 After a long hiatus, the Victoria Magic Circle is back with Tricky Tuesday!
Where: The Mint Restaurant, 1414 Douglas Street
When: Tuesday, March 14th, 6:30 p.m.
Sauvage Comedy is back with another awesome lineup of comedians!
Featuring: Dylan Williams, Evan Mumford, Keith Williams, Pam Stiles, Amit Solanki and Paul Wilson. Hosted by Elyott Ryan
Where: Ile Sauvage Brewing Co, 2960 Bridge Street
When: Tuesday, March 14th, 8 p.m. to 9 p.m.
This Bollywood music evening is sure to entertain!
Talented singer, composer and arranger, Jolly MukherJee is bringing some of the finest Bollywood singers like Sarrika Singh, Shrikant Narayan and P. Ganesh, along with the very well known musicians to take you back to the memories of the favourite stars and recreate those evergreen songs which will make you sing, cry and dance during the three hour long concert.
Where: McPherson Playhouse, 3 Centennial Square
When: Tuesday, March 14th, 6 p.m.
Saltchuck Pies will once again be taking over the Driftwood kitchen in celebration of Pi Day! Enjoy a special menu with four savoury pies, and a special dessert, all made with different Driftwood beers.
Where: Driftwood Bar and Patio, 836 Viewfield Road
When: Tuesday, March 14th, 12 p.m. to 8:30 p.m.
Come out and make a lovely Ocean Themed Resin project. Use shells, pebbles, coloured glass and resin to create a framed ocean themed art piece. No experience required, we will walk you through each step.
Where: Irish Times Pub, 1200 Government Street
When: Tuesday, March 14th, 6 p.m. to 8 p.m.