Since 2019, Victorians have been lacing up their running shoes in honour of the late Constable Sarah Beckett.
This year, the Sarah Beckett Memorial Run will take place on May 13th, during Mother's Day weekend, at Langford's Starlight Stadium.
Cst. Sarah Beckett was a 32-year-old mountie, wife and mother of two young sons who died tragically after her marked police vehicle was struck by a pickup truck early in the morning on April 5th, 2016 in Langford.
After growing up in Victoria and graduating from Spectrum Community School, Sarah joined the Royal Canadian Mounted Police in 2005.
Family and friends remember her as a dedicated police officer who worked hard to make a difference in every community she worked in, and also as a wonderful mother, wife, daughter, sister, coworker and friend.
The Sarah Beckett Memorial Run is an annual 5km run, walk and family-friendly event honouring the late mountie, and registrations are still open.
This Mother's Day weekend, bring the whole family out and make a day of it! Starlight Stadium is conveniently located next to Sarah Beckett Memorial Playground, and there will be a kids zone on-site with activities like face painting, and more.
You can register online, and the cost is $50, which includes a technical run shirt, race bib (local event only) and a finisher's medal. The cost for runners 12 and under is only $25!
Can't make it to the local event but still want to show your support? You can take part in the Virtual Run from your current location for just $40, which includes a technical run shirt and finisher's medal.
If you're running virtually, don't forget to share your photos to social media page using the hashtag #runforbeckett!
Running in-person? Make sure to stick around following the run!
After the run, stop by the SBMR business pavilion where there will be complimentary burgers and hot dogs, with our very own Langford Firefighters manning the barbeque.
You'll also have the chance to enjoy live music while you eat, and there will be a boot there should you wish to donate when you grab your burger.
Plus, there will be local businesses with booths set up and giveaways including tickets to the Victoria Harbourcats and Pacific FC!
Here's the schedule for the Sarah Beckett Memorial Run:
8 a.m. – Business pavilion opens at Starlight Stadium—come enjoy a coffee provided by Starbucks and get ready for the run/walk!
10 a.m. – Start of run/walk
12 p.m. – Business pavilion is closed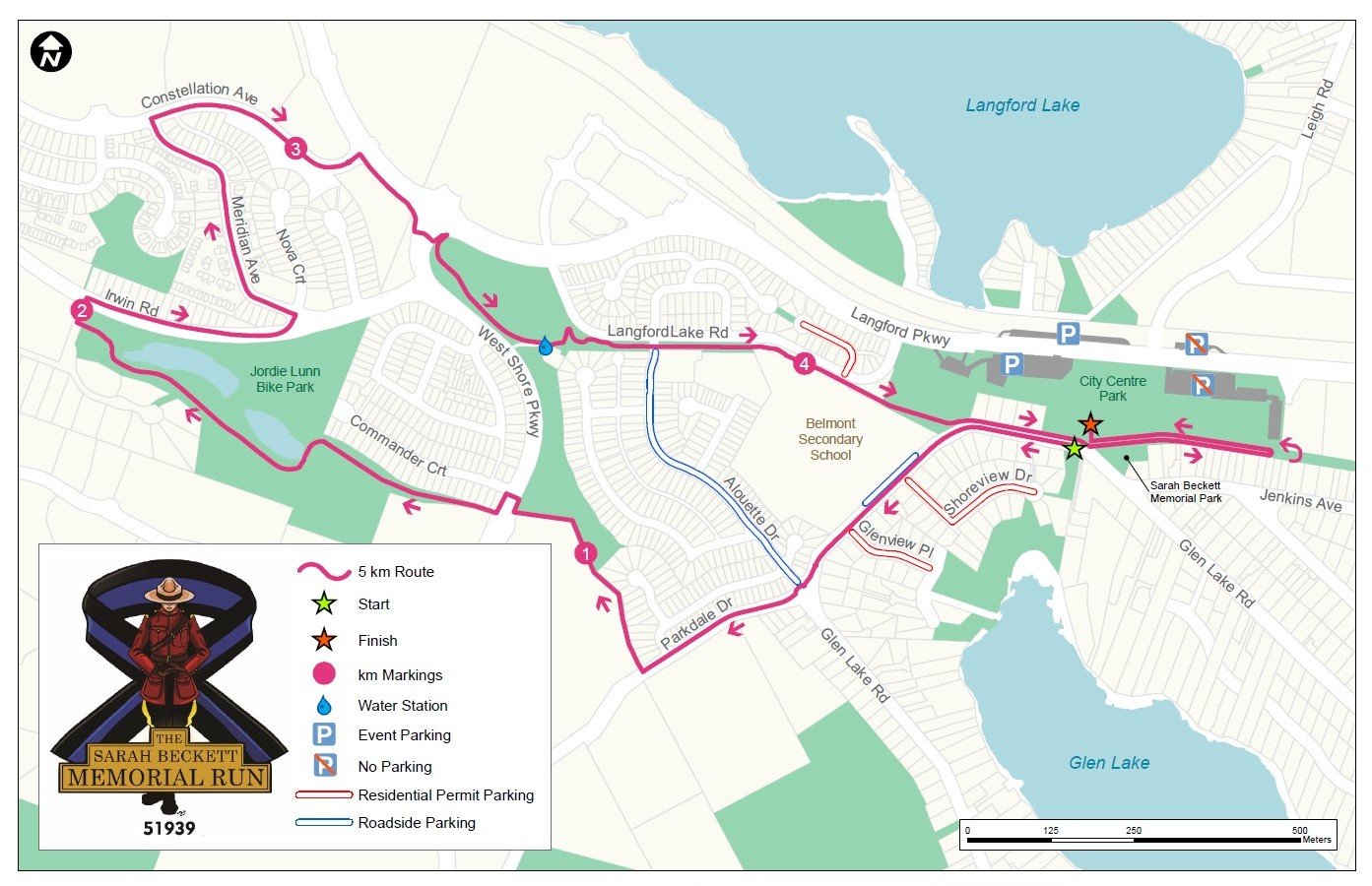 This year, the Run is happy to support the Goldstream Food Bank as well as BGC South Vancouver Island (formerly Boys & Girls Club of Greater Victoria)!
Where: Starlight Stadium, 1089 Langford Parkway
When: Saturday, May 13th — Pavilion opens at 8 a.m., run/walk starts at 10 a.m.
To register: Register online
Event Package Pickup:

West Shore Town Centre
Sunday, May 7th, 10 a.m. – 2 p.m.
Thursday, May 11th, 5 p.m. – 8 p.m.
Starlight Stadium
Saturday, May 13th, 8 a.m. – 10 a.m. (Prior to run/walk start)