Accidents happen, but there are ways to prevent avoidable circumstances. 
Every year, the BC Search and Rescue Association (BCSARA) analyzes data and compiles a list of the hiking trails responsible for the most search and rescue (SAR) calls. 
For 2022, it was determined that the Juan de Fuca marine trail placed 3rd, and Cape Scott trail placed 10th for requiring the most search and rescue responses which had a combined total of 98 rescues.
These are the top 10 trails across BC:
Rubble Creek trail (16 SAR incidents)

Howe Sound Crest trail  (13 SAR incidents)

Juan de Fuca marine trail (13 SAR incidents)

Stawamus Chief trail (11 SAR incidents)

Sea to Summit trail (10 SAR incidents)

Grouse Grind trail (9 SAR incidents)

Wedgemount Lake trail (8 SAR incidents)

Mount Seymour trail (7 SAR incidents)

Rainbow Mountain trail  (6 SAR incidents)

Cape Scott trail  (5 SAR incidents)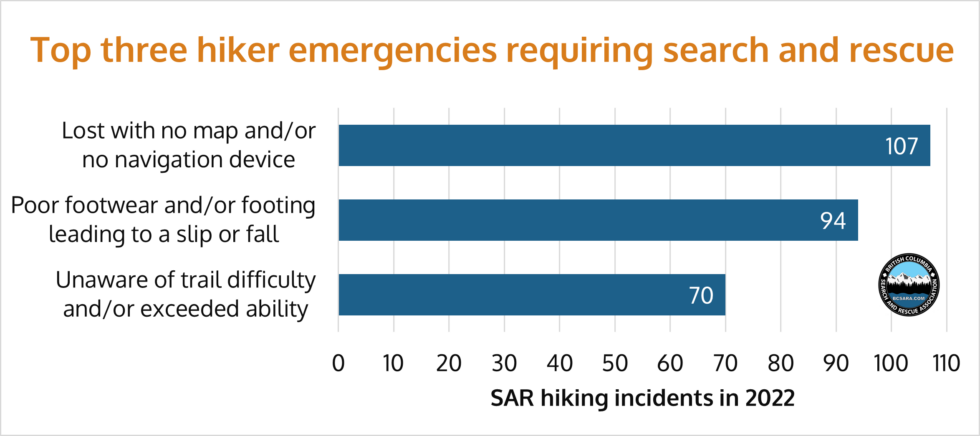 Based on the image above, some quick tips for taking care and being prepared are as follows:
Wear proper footwear (absolutely no flip-flops!)

Know your route (carry a navigational device with you – digital or a physical map)

If a path appears unsafe, don't cross or use your best judgment in how to proceed (keep in mind any equipment you may need beforehand – i.e. crampons or rope)
Check out BC Search and Rescue Association's full list here for detailed information and tips on how to properly prepare for your own hiking trips – lets reduce those numbers!
Now if you're in the mood for a hike this weekend, make sure to check out our list of 19 scenic hikes on Vancouver Island that will take you to new heights.