Canada began their quest for gold in style Wednesday night in Vancouver, completely overwhelming Denmark en route to a 14-0 victory.
Anahiem Ducks prospect and Canadian captain Maxime Comtois buried four goals in the blowout, though it wasn't the only hat trick of the evening. Morgan Frost (Philadelphia) provoked the first wave of hats, netting three goals before the five minute mark of the 2nd period.
It was the first time two Canadians scored a hat trick in one game in 25 years.
Vancouver Canucks prospect Michael Di Pietro made 12 saves in the win, stopping a few quality chances early in the game to settle his squad. He even found his way onto the scoresheet with an impressive assist on Frost's hat trick goal, springing a two-on-zero from his own goal crease: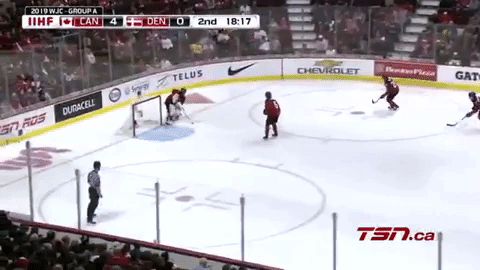 Comtois (4g,0a), Frost (3g,2a), Edmonton's Evan Bouchard (0g, 3a), Vegas' Cody Glass (0g, 4a), and undrafted Brett Leason (2g, 2a) all recorded at least three points in the victory.
Victoria Royals forward Philip Schultz (Denmark) earned a penalty shot in the third period, but couldn't crack the Di Pietro code in goal.
Canada moves on to face Switzerland tonight at 5:00pm!
Slovakia gives United States second period scare
Slovakia endeared themselves early to the Victoria crowd, claiming a 1-0 lead in the 2nd period against the United States – a sure ticket to winning over fans in any Canadian arena. USA proved their resilience, however, scoring two goals in the first five minutes of the 3rd to take a 2-1 advantage they'd never concede.
Projected 2019 first overall pick Jack Hughes found his way onto the scoresheet with an assist, and demonstrated his incredible skating ability throughout the game. Mikey Anderson (Los Angeles) tied the game early in the third, while Evan Barratt (Chicago) scored the game winner.
If this game taught us anything though, it's not to count out Slovakia as a legitimate threat to steal points from Group B's trio of Finland, Sweden, and USA.
Sweden fends off Finnish comeback in Victoria
An age old Scandinavian rivalry was also renewed at Save-On-Foods Memorial Centre Wednesday night, as Sweden held off a late comeback attempt by the Finns, winning 2-1.
Vegas prospect and Swedish captain Erik Brannstrom scored both goals from the blueline – the first a seeing eyeshot through traffic, the second a one timed cannon on a 5-on-3 powerplay – which seemed to be the only way to beat Finnish netminder Ukko-Pekka Luukkonen (Buffalo), because if you tried to score from in close he would do ridiculous things like this: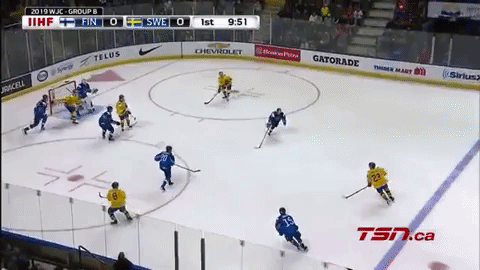 If you pulled your groin just watching that, you're not alone.
Finland would offer their usual feistiness, scoring a goal with 4 minutes remaining in the game to make it 2-1, but Sweden was able to fend off their final push to hold onto the victory.
Samuel Ersson (Philadelphia) made 29 saves in the win.
Today's schedule: Thursday, December 27th
Rogers Arena
Russia vs. Denmark, 1:00pm
Canada vs. Switzerland, 5:00pm
Save-On-Foods Memorial Centre
Slovakia vs. Sweden, 3:30pm
Finland vs. Kazakhstan, 7:30pm