Residents of East Vancouver Island should prepare for more snow today, based on an advisory from Environment Canada.
The region includes Duncan, Nanaimo, and Campbell River, among others.
The weather agency says that communities located on higher terrain, or away from the water are more likely to see up to 5 cm of snow.
"Areas near the Strait of Georgia will receive little to no accumulations but higher terrain and inland areas could see up to 5 cm of snow in a short period of time," reads the weather alert.
The snow, which may be mixed with rain, is expected to taper off around noon near Nanaimo and will ease off starting from north to south.
Meanwhile, the Malahat is currently also experiencing snowfall which could make for hazardous driving conditions.
"We are seeing a bit of snow on the Malahat but we are at plus 1 [degrees celsius] so we are on the warmer side of zero, so there's not a lot of accumulation," said Environment Canada meteorologist Carmen Hartt.
"The snow is more of a hazard of visibility."
Live view of Malahat Summit – N – Hwy 1: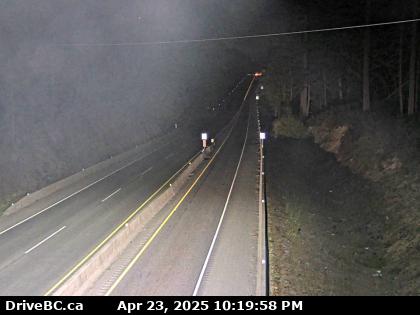 BC Transportation also warns of wet snow coming down around the Greater Victoria area, particularly in Langford and Saanich.
If road conditions or visibility worsens, Environment Canada recommends turning on your vehicle lights and maintaining a safe distance away from other cars.
To stay tuned to BC weather alerts, check Environment Canada's website here.