Victoria Police are hoping the public can help them reunite a 67-year-old mobility-impaired man with his stolen scooter.
On March 8th, a surveillance camera in downtown Victoria captured footage of two men approaching a parked van with a scooter secured on the back.
The video shows them removing the mobility scooter and driving off.
The suspects are both described as Caucasian men between the ages of 30 to 40 years old.
At the time of the incident, one suspect was wearing a black and white baseball hat, dark vest and white shoes. The second suspect was wearing a dark hat and dark clothing and has a medium build. This suspect drove the scooter eastbound up the sidewalk along Pandora Avenue.
"The victim needs this scooter to attend medical appointments as he faces mobility challenges," police said in a tweet.
The scooter is a silver "Shop Rider". It has no mirrors, red and black trim, and a cracked left tire cover. It's similar to this one: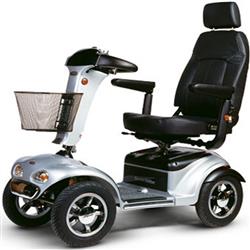 Help us reunite a 67-year-old mobility impaired man with his stolen silver Shop Rider scooter. The March 8th theft was caught on video, along with the 2 suspects. Have info? Recognize these men? Call @VicCrimeStop or our non-emergency line at (250) 995-7654. #yyj #F2010407 pic.twitter.com/eXHwukaHYy

— Victoria Police (@vicpdcanada) March 11, 2020
If you see the scooter or recognize these men, call VicPd at (250) 995-7654, or if you wish to remain anonymous, call Crime Stoppers at 1-800-222-TIPS (8477).