What goes down, must come up again.
At least that's the case for the quickly rising gas prices in the Greater Victoria area, according to popular gas-price tracking app GasBuddy.
GasBuddy reports that as of May 8th, the average price of gas in the region is 105.7 cents per litre; this is up 9.1 cents from last week, and three cents per litre above the average for last month.
The spike in prices came after the announcement to start increasing economic activity in B.C.
This follows on the heels of fuel prices in Victoria dropping below $1 per litre in April, as oil prices declined due to global price wars and lower demand from consumers.
As recently as last week, consumers were seeing prices as low as 96.6 cents per litre in parts of Greater Victoria — the lowest the region has seen in 4 years.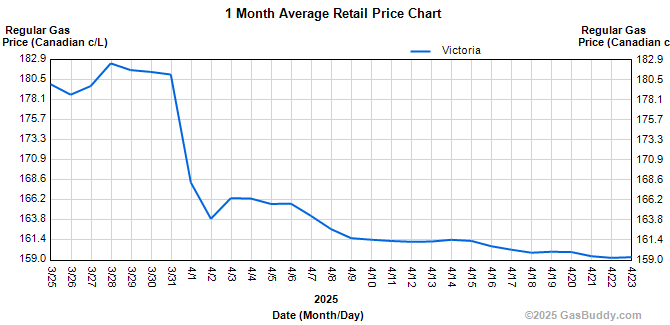 Victoria's current average gas price is much lower than the 2019 average of 161.7 cents per litre, which was just below the highest recorded average for Victoria since 2008.
Across the country, the average price of fuel is 87 cents per litre but B.C. takes the lead for the most expensive gas prices, averaging at 100.1 cents per litre.