Welcome to the Heartbreak Hotel!
If you're in need of a good cry and even better company, this drag event happening at Wicket Hall on Sunday, July 2nd is for you.
Not only can you drown your sorrows amongst friends with some good drinks and rants, you're invited to do so in an immersive drag experience!
This event is hosted by Drag in Concept — starring Aria Okay, Henrietta Dubet, Jackbox Jayne and Ket Bush.
The featured performances will include Bad Shah, Ghost of Judith, Queef Latina (MTL), Shelita Cox, Sylvester Stalletto, Tragic Mike.
A full evening of drama, games, prizes and more — there's a reason it's described as a jukebox-storytelling drag show unlike any other! One that you won't want to miss. 
There will even be a special 'Love Bomb' drink at the bar for those looking for a pick-me-up to counteract your sorrows.
The spotlight show will begin at 9:30 p.m. followed by the main show at 10:30 p.m.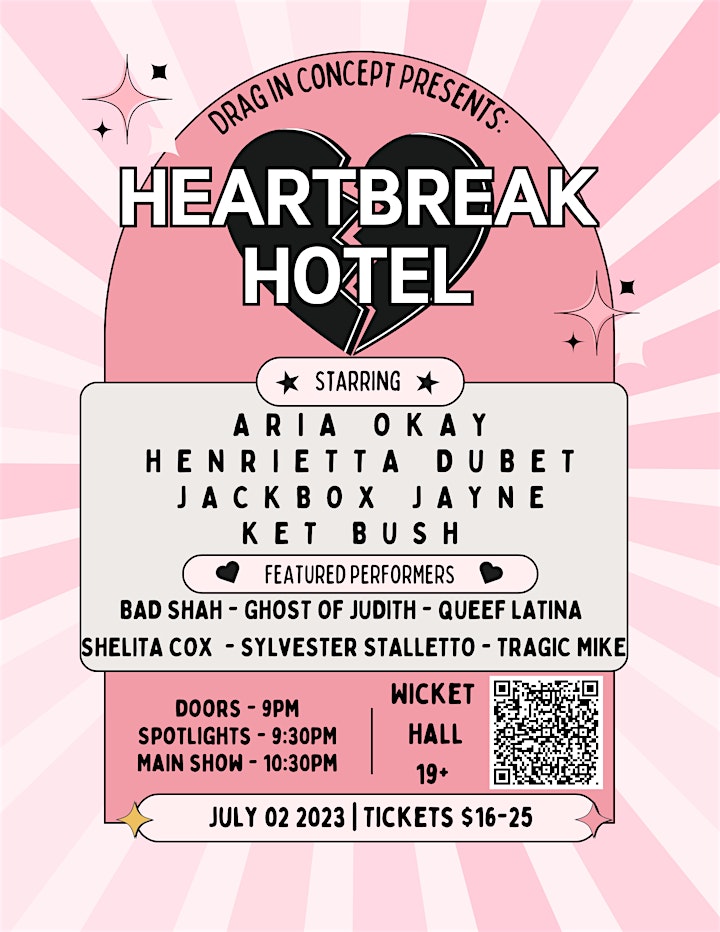 Tickets are around $20 available via Eventbrite or $25 at the door.
Where:

Wicket Hall, 919 Douglas Street

When:

Sunday, July 2nd from 9 p.m. to 11:30 p.m.