Ready to take your summer to new heights?
At the Malahat SkyWalk, you can do just that—and it's only 35 minutes from downtown Victoria.
Since its grand opening last July, the Malahat SkyWalk has welcomed thousands of visitors, eager to take in the incredible views.
Now, the popular attraction has added some exciting summer events so you can celebrate the sunshine with them in style.
From a first birthday celebration to late-night visits, there is a ton to take in this season, and even better? We've partnered with them to give away a family day pass to one lucky winner! You'll find those contest details below.
In the meantime, here are 5 things to you need to know about the Malahat SkyWalk:
1. They turn the big ONE on July 15th!
And that's reason to celebrate! On Friday, July 15th the Malahat SkyWalk will be commemorating their first birthday by becoming ONE with Nature—from face painting, to magic shows and more, you won't want to miss this. Check out the day's full schedule below: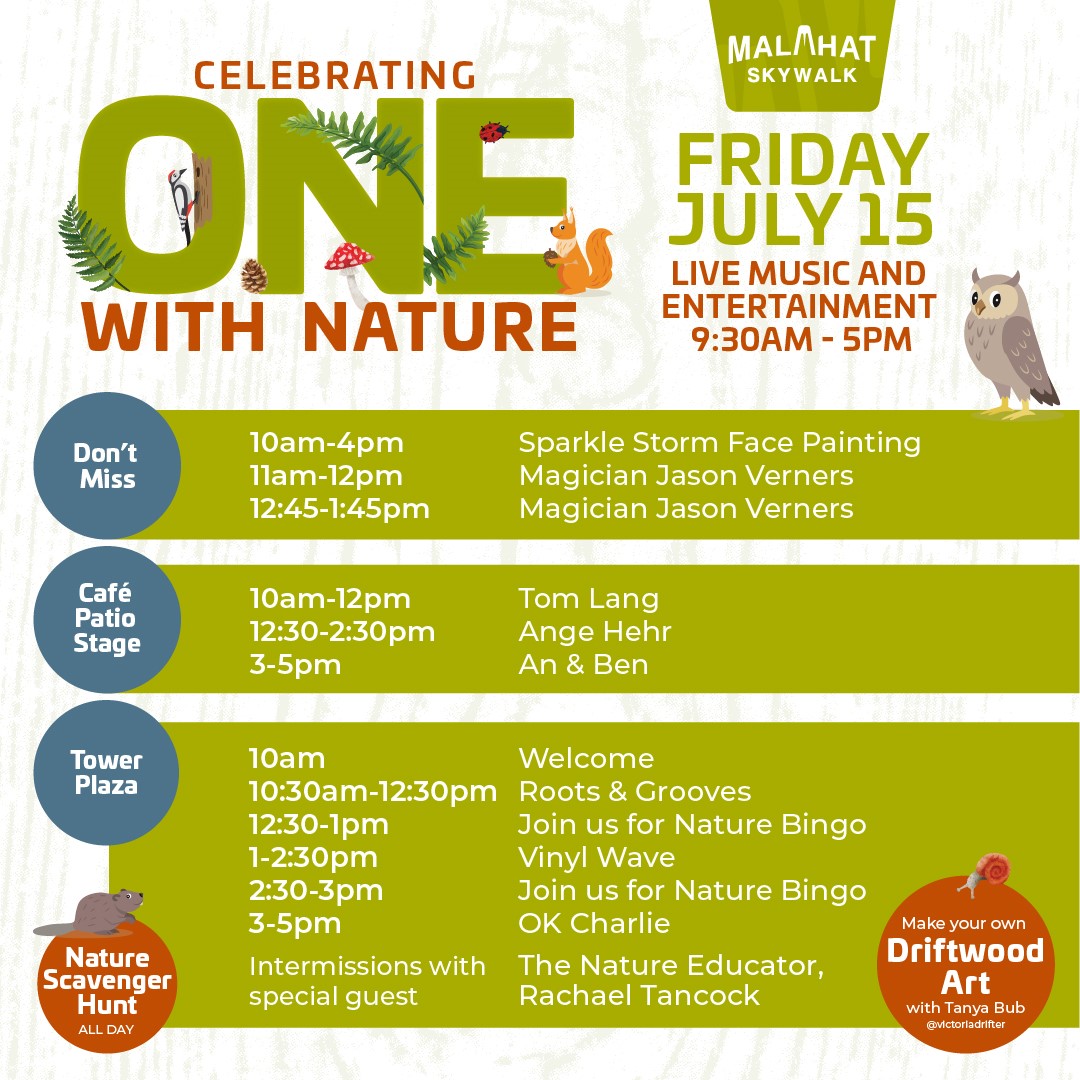 2. You can rise above it all
Up for an adventure?
The Malahat SkyWalk offers scenic views of Mt. Baker, Finlayson Arm, the Saanich Peninsula, and islands in two countries from a viewing platform 250 meters above sea level.
Enjoy the sights as you walk across the TreeWalk, taking in the incredible views of the peninsula.
Walking across the TreeWalk makes you feel as if you are walking in the middle of the tree tops, and the 600m of elevated wooden walkway gives you a different perspective of walking in the woods.
There are interpretative signs along the walkway, providing information on the type of animals and trees that guests can find.
Once you reach the top of the 10-storey architecturally-inspiring Spiral Tower, the brave can walk across the sturdy, 84 square meter 'Adventure Net' offering a full view of what's below your feet.
At the end of your adventure, visitors have a choice of either walking back down as normal or opting to enjoy something a bit more exciting – the SkyWalk includes a 20-metre Spiral Slide that gets you back down to the bottom of the SkyWalk in 13 seconds!
3. Summer Saturdays are for late nights
All summer long, for the months of July and August, every Saturday night at the Malahat SkyWalk will be a late one!
Admission hours will be from 9:30 a.m. to 8 p.m. (park will close at 9 p.m.) and will include live music and appearances by Tour de Rock! Check out the full schedule here.
4. Eats, gifts and more
Aside from the breathtaking views and adventurous heights, Malahat SkyWalk offers an on-site cafe featuring local fare, gift shop to purchase the perfect memento and also a gathering place plus a kids' play area!
5. Frequent flyer? They've got you covered
Once you experience the magic of the Malahat SkyWalk, you're sure to want to come again!
Although you can purchase single-day tickets that give you access to the TreeWalk, Spiral Tower, and the Slide, there are also annual passes available—with perks like priority access to special promotions and events, discounted Friends & Family single day ticket admissions and a 10% saving on retail and cafe purchases, it's a no-brainer!
You can grab your passes online here.
CONTEST
For a chance to WIN a Family Day Pass (2 adults, 2 children) to Malahat SkyWalk, please complete the following:
LIKE Malahat SkyWalk on Facebook and comment below to let us know have (1 entry)
FOLLOW Malahat SkyWalk on Instagram and comment below to let us know have (1 entry)
SHARE this post on Facebook or Twitter and comment below to let us know have (1 entry)
The winner will be drawn on July 14th. Good luck!
Where: 901 Trans-Canada Highway, Malahat
When:

Regular hours: 9:30 a.m. to 6 p.m.
Saturday late night hours (all summer long, July and August): 9:30 a.m. 8 p.m.