The Pat Bay Highway (HWY 17) at Keating Cross Road is about to undergo some major changes in a large-scale overhaul of the intersection.
At present, drivers wishing to turn left on Keating Cross Road have to turn across free-flow highway traffic — a feat which can prove to be a difficult task during peak travel times.
The province and federal government have teamed up to bring a new intersection to Keating Cross Road. Their goal was to eliminate the need to turn across oncoming traffic and improve accessibility while mitigating risk. 
"We know this is one of the region's most important connections, linking islanders to ferries, flights, future rapid bus service and major employment centres along the Saanich Peninsula," said Rob Fleming, B.C.'s Minister of Transportation and Infrastructure. 
"Those driving through the area need a route they can count on. This overpass will eliminate the possibility of a collision between vehicles travelling in opposite directions, making travel easier and safer for everyone while significantly improving the flow of goods and people."
---
Related:
---
The corridor which has now broken ground sees over 52,000 vehicles per day, being the primary corridor for those coming to Greater Victoria via a ferry or the airport. 
According to the province, over 4,000 cars drive through the Keating Cross Road intersection per hour at peak times. 
The new infrastructure will also provide a new multi-use sidewalk for pedestrians as well as those using active transport or mobility aids and it will accommodate future rapid bus transit plans in order to reduce congestion and greenhouse emissions. 
During construction, commuters who frequent the Pat Bay Highway can expect: 
Southbound on-ramp from Keating Cross Road to HWY 17 will be closed throughout the construction period

Daily commuters will access HWY 17 via a detour from Central Saanich Road to Tanner Road

Commercial traffic and tour buses will be detoured to Central Saanich Road along the existing truck route

Access to Martindale Road from HWY 17 is permanently closed, but a detour will allow access via Gliddon Road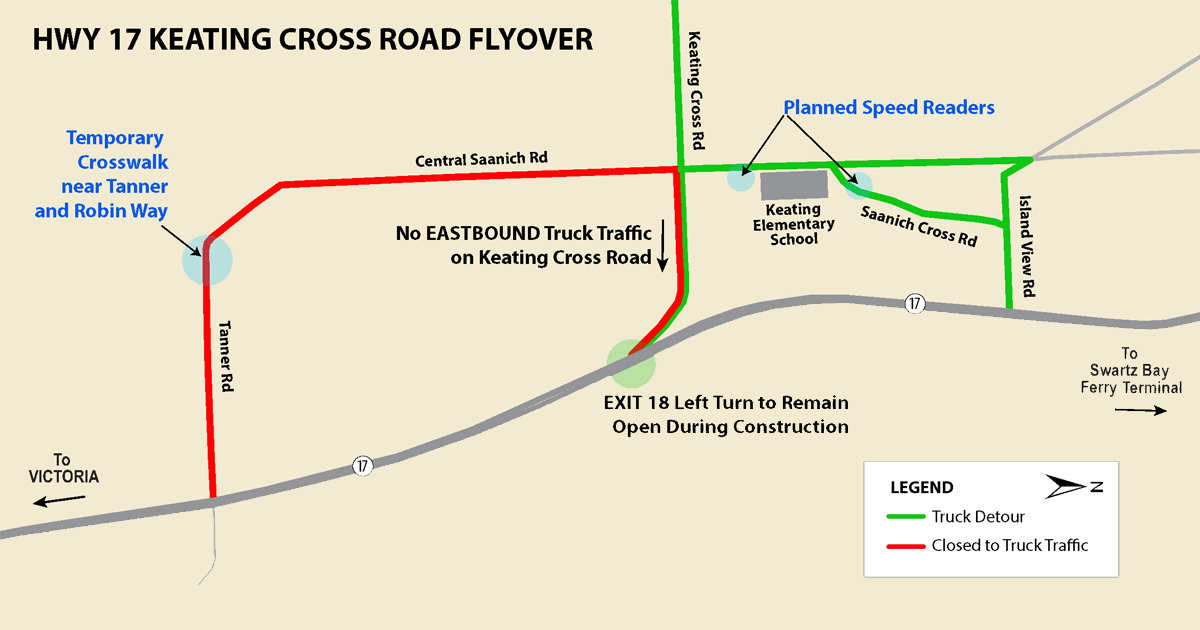 There will also be nightly lane closures in both directions along HWY 17 between Tanner Road and Island View Road. This will result in single-lane northbound traffic from 7 p.m. until 6 a.m. and single-lane southbound traffic from 9 p.m. until 6 a.m. 
The total projected budget for the project is $76.8 million.
The province is contributing $57.6 million toward the budget, the feds are chipping in $16.7 million and the District of Central Saanich is allotting $2.5 million. 
BC says the project is slated for completion in spring of 2025.