It's hard to believe we're already thinking about winter, but the cold weather is just around the corner, which means that BC's winter tire regulations will be in effect as of Sunday, October 1st.
Each year, the Ministry of Transportation issues a reminder to the public to install winter tires on their vehicles if they plan to travel on certain highways, such as the Malahat, Highway 14, Highway 4, and Highway 28.
In British Columbia, winter tires are defined as those labeled with either the Mountain Snowflake symbol or the Mud and Snow (M+S) symbol.
Tires marked with a mountain/snowflake symbol on the sidewall provide the best traction on snow and ice and in cold weather.
Tires marked with M+S (mud and snow) offer better traction than summer tires but are less effective than mountain/snowflake tires in severe winter conditions.
These tires must be in good condition with a minimum tread depth of 3.5 mm and must be used on designated highways from October 1st to March 31st.
Signs are posted to identify the highways where winter tires are required for lighter cars and trucks, while chains are necessary for heavy commercial trucks.
These routes are typically located near high mountain passes and highways that experience significant winter conditions, where weather can change rapidly from rain to snow.
Drivers planning to travel on these designated routes are encouraged to "know before you go" and check DriveBC.ca for the latest highway conditions, highway cams, route forecasts, and delay information.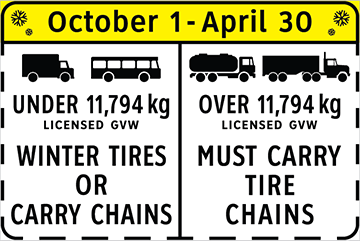 Drivers who do not have proper winter tires on their vehicles on the designated routes can receive a fine of $121, while those who do not meet the minimum tread depth requirement of 3.5 mm on their tires can be fined $109.
For more information on winter tire and chain requirements in BC, visit this link.