Get ready to swing, jive, and twist your way back to the fabulous 1950s, as the Saanichton Fairgrounds is set to host an unforgettable outdoor movie night later this month.
On Saturday, August 19th, the iconic movie Grease will light up the big screen under the stars, bringing the nostalgia of the Fifties to life in a truly groovy evening.
So dust off your leather jackets, poodle skirts, and cat's-eye glasses, because this event is a blast from the past you won't want to miss!
Starting at 5:30 p.m., the Early Ford V8 Car Club will be showing off their shiny Fifties 'rods, providing a glimpse into the classic car culture that defined the era.
Imagine sleek automobiles, shiny chrome, and the spirit of adventure on display. For those who love the Fifties tunes, local rockers Shenanigans will be taking the stage at 7 p.m., filling the air with the energetic sounds of the time.
But that's not all!
The event will feature live-action Grease song-and-dance numbers by the talented Triple Threat Performers, transporting you right into the world of Danny, Sandy, and the T-Birds.
The Saanich Pioneer Society will also be presenting a captivating display titled "The Fifties on the Peninsula," offering a unique opportunity to learn more about the local history of the era.
Hungry or thirsty? No worries!
Numerous concession stands will be on-site, serving up a variety of delectable food and drinks to keep your energy up throughout the evening.
Whether you're craving a classic hot dog, buttery popcorn, or a refreshing soda, you're sure to find something that satisfies your taste buds.
And of course, the main event kicks off at dusk, around 8:30 p.m., as Grease begins to play on the outdoor screen.
Bring your blankets or chairs to ensure your movie viewing comfort, and get ready to sing along to all your favorite songs and relive the magic of this timeless musical.
The Saanichton Village Association, in partnership with the North and South Saanich Agricultural Society (Saanich Fair), were able to presents this retro event thanks to community sponsors and supporters.
So whether you remember the Fifties fondly or you're curious to experience the era for the first time, make your way to Saanichton Fairgrounds on August 19th.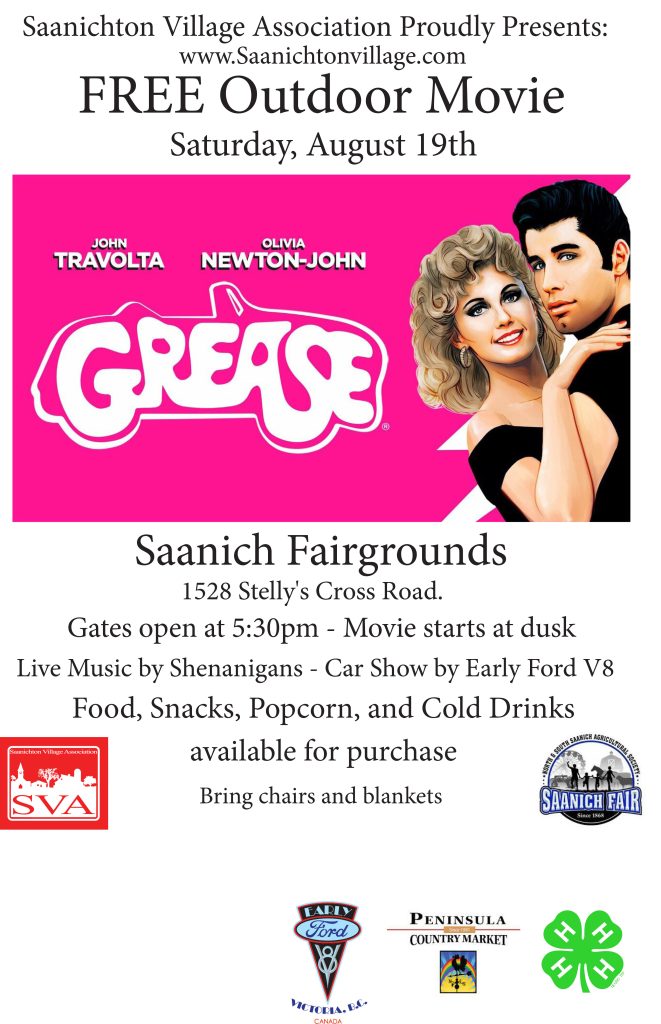 Where: Saanich Fairgrounds, 1528 Stellys Cross Road
When: Saturday, August 19th, gates open at 5:30 p.m.